Supply and Delivery of 82 x Tablets
Overview
IHPS is one of the five subrecipients (SRs) of the National Department of Health (NDoH)  appointed to implement Global Fund TB/HIV program in the Johannesburg Health  District from the 01 April 2022 to 31 March 2025
Institute of Health Programs and Systems (IHPS) is inviting Service providers  to submit quotations for the Supply and delivery of 82 x Tablets as follows:-
Mandatory Requirements:
CIPC Registration Documents 

Bank Confirmation Letter 

Valid Tax PIN/Proof of Tax Registration  

Notice of VAT Registration (if applicable) 

CSD Report ( Not Older Than One Month) 

Valid BBBEE Certificate/ Sworn Affidavit (

Failure on the part of the bidder to submit proof of  BBBEE with the bid will bedeemed that preference points for BBBEE status level of contribution are not claimed &will therefore be allocated 0) 

 

SPECIFICATION FOR TABLETS: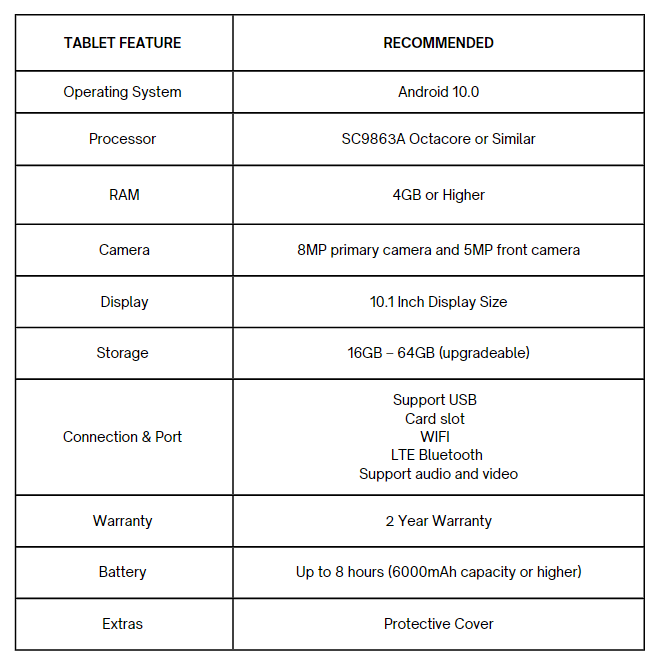 Service providers are requested to submit : 
Detailed specification / brochures of the proposed device. 

Proof of stock availability 
The Pricing Schedule (Quote ) for the Tablets should be submitted as follows:-

The RFQ's will be evaluated in 2 stages:- 
Stage 1:. Service providers who do not submit the Mandatory documents will be  disqualified and will not be eligible for further evaluation. 
Stage 2: Quotes will be evaluated for Pricing and Broad-Based Black Economic  Empowerment (BBBEE). 
All quotes must be submitted on or before 07th December 2022 @ 15H00 to the email address: requisitions@ihps-sa.org 
Institute of Health Programs and Systems (IHPS) reserves the right to appoint  or cancel the Tender No: (RFQ2022-NDoH TAB002), and the continuity of the  work published is subject to the availability of funding from the funder."