Lease of Office Space Request for Quote
Overview
The Institute of Health Programs and Systems (IHPS) is a South African non-profit company (NPC) born out of the ICAP at Columbia University PEPFAR/ CDC Track 1 transition in 2010 with a mission to strengthen health and developments systems through program implementation and partnerships and a vision to achieve optional and sustainable health and development outcomes. IIHPS is one of the five subrecipients (SRs) of the National Department of Health (NDoH) appointed to implement Global Fund TB/HIV program in the Johannesburg Health District from the 01 April 2022 to 31 March 2025. IHPS is inviting suppliers to submit quotations office space rental as per below:
Mandatory Requirements:
Declaration of Interest SBD4. https://etenders.treasury.gov.za/content/tender-documents
Declaration of Bidder's past Supply Chain Management Practices SDB9. https://etenders.treasury.gov.za/content/tender-documents
B-BBEE Status Level 2 or better Verification Certificate (where preference points are claimed) (Certified Copy).
Certified copy of registration certificate with CIPC or proof of ownership/ shareholding.
The service provider must submit the Tax Clearance Certificate for confirmation of Value Added Tax (VAT) and other Tax related matters.
The supplier must submit a profile of the entity which includes but is not limited to the following:

Name, structure, and strategies,
Names and identity numbers of all directors, chief operating officers,
Business: products and/or services which the entity is trading
A service provider that does not meet the above mandatory requirements will be automatically disqualified.
Bid proposal should include the following::
Lease agreement between bidder and owner fully signed by both parties for the
subject property related to the bid (Covering the duration). If not owned
Proposed Comprehensive Tenant Layout plans of the space to rented out.
Proposed Tenant layout indicating all areas, emergency exits, plus disabled toilets (if available) including position of existing or new lifts if required)
Site Plan indicating entrance and all parking. Indicate how many parking bays are included in the rental.
The price should reflect all related costs including water, electricity, and utilities.
Required Documents after the Tender has been Awarded::
Lift condition report – prior to handover (Copy)
Electrical Compliance Certificate (Copy) – prior to handover.
Fire regulation compliance certificate (Copy) – prior to handover.
Occupational Health & Safety Regulation Certificate (Copy) prior to handover
Bid Evaluation Criteria:
Bids will be evaluated in a three (3) phase stage

Phase 1: Bidders must satisfy the mandatory administration criteria for them to be evaluated further. Bidders who do not meet the criteria will be disqualified and will not be eligible for further evaluation.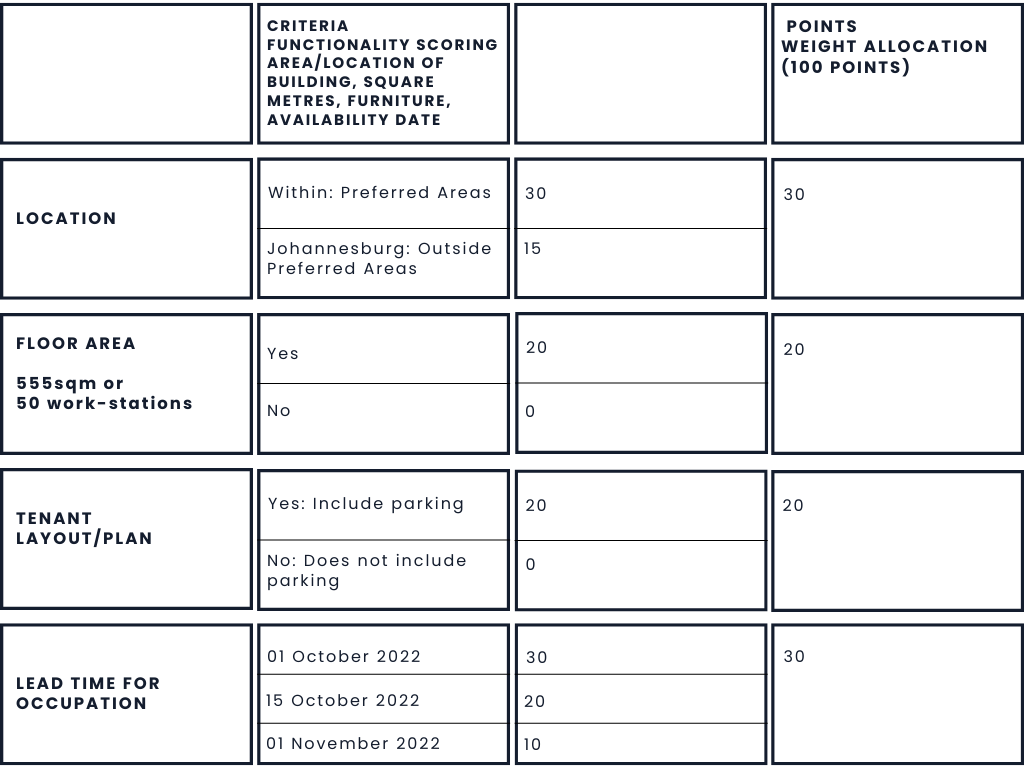 Phase 3: This will be evaluated through Pricing and Broad-Based Black Economic Empowerment (BBBEE). The 80/20 preference points system will apply, and bidders are required to submit a BEE certificate